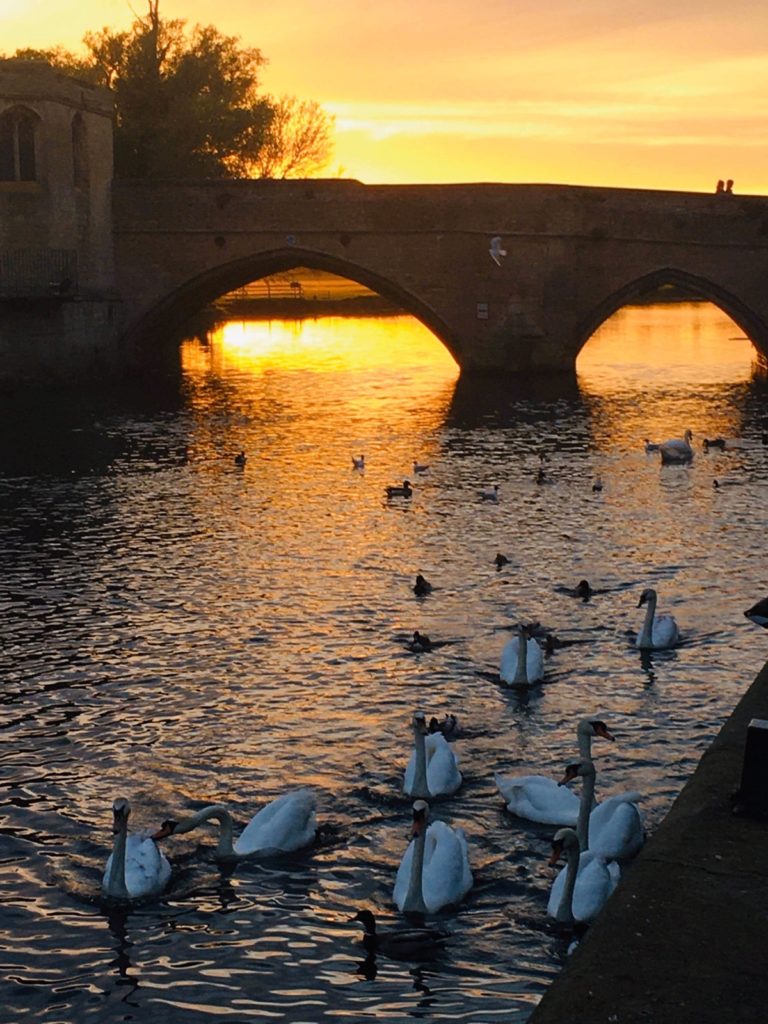 Welcome to the August edition of our Newsletter, and a very warm welcome to all our new subscribers this month.
It certainly feels like summer in St Ives and the cooling fan in our new office at the Town Hall is an essential asset.
After months of online and telephone sessions only, we started to see clients face to face at the end of July, although a large number of clients prefer to continue with online therapy.
The walks by the river quay in the Old River Port are refreshing and grounding between sessions and it is lovely to see more people out and about now.
But this is not the normal we knew…
Used by now with the unpredictable, with new ways and new tasks to prevent the spread of pandemic and protect self and others, finding new ways to get on with our lives, respecting social distancing and having our lifestyle changed substantially, we found ourselves, changed as well…
It is time to let go now, be curious about what life brings and get on with it to the best of our abilities.
We hope you all enjoy the rest of August and that our news is of interest to you!
Kind regards,
Adriana R Talaba
Emotional Wellbeing Therapist,
Founder and Director of Transmute Wellbeing Limited
Read my story: about us
"I hope you love yourself enough to recognise the things you don't like about your life and I hope you find the courage to change them."
Ongoing activities at Transmute Wellbeing
Regular group activities:
We offer online wellbeing workshops, book a place on our events page:
Self-Compassion
Mind-body Connection and Emotional Distress
EFT tapping for Emotional Wellbeing
If you are interested in the above topics and you want this exclusively for you and not participating in a group, or you want to share it just with your team at work or with your own private group, contact us and we can arrange that for you.
One to one therapy sessions:
We offer 30 minutes free consultation when you contact us, via phone or Zoom.
Face to face at our office in St Ives, Cambridgeshire, conveniently located in the Old River Port at Town Hall. All face to face sessions are subject to Covid 19 risk assessment.
Online via Zoom, Microsoft Team or Skype.
*New!
We are now trained to offer "Single Therapy Sessions", suitable for people who want to resolve a specific issue in a single session. Contact us for details.
We have an integrative approach to therapy, and we offer:
Upcoming programs available for individuals, organisations and charities
If you experienced domestic abuse or sexual abuse/violence and you feel stuck, contact us to enrol for our trauma informed recovery programs.
We are very excited about starting the enrolment for our Recovery Programs.
Based on the results of years of practice and research in working with domestic abuse and trauma, the experts at Rock Pool developed those programs and we invested in this specialised training to be able to help you.
You don't have to talk about what happened to you, it is all about the impact it had on you and how to get a better quality of life.
You can contact us regardless if what happened to you was a long time ago or recently.
The program aims to build your resilience, healthy coping mechanisms, self-acceptance and personal strength.
You will be engaged on an amazing journey towards regaining control over your life and growing from your trauma.
We run this program for small groups of 4, however we can create various numbers of groups, as needed.
We will also tailor the groups around their gender and sexual orientation as we are aiming to work with everyone.
The Domestic Abuse Recovery Toolkit program will start in November 2020, but you can contact us to start the enrolment process.
We are aiming to start rolling the first group program for Sexual Violence Recovery Toolkit in September 2020, so get in touch with us if interested.
Contact us on our secure email: info@transmutewellbeing.co.uk if you want to know more.
If you are interested in the programs but not feeling comfortable about group work, get in touch and we might be able to support you on one to one basis, however research shows that group work is more effective for the recovery programs.
Want to know more about EFT?
At Transmute Wellbeing we blend EFT tapping with energy psychology, psychotherapy and EDMR, depending on your needs. Look up our EFT tapping page.
We can support you resolve complex issues whilst in a session with us, but we also encourage and support you to learn using the basic EFT as a self-help tool.
Contact us if you want our free EFT leaflet guide so you can learn to use the techniques to manage distress or discomfort or as a daily routine.
When it comes to emotional distress, pain, physical distress , cravings and other unhealthy coping mechanisms, EFT tapping is an amazing tool, as it acts directly on our amygdala: Watch https://youtu.be/VpAICLoh8yg.
* We offer every Saturday morning 11 am an hour of EFT tapping via Zoom for free.
Please join us to experience the benefits of EFT. Look up the events page to book a place.
Look up a daily energy routine: https://youtu.be/nN2uq78Y2bE.